Do you feel overwhelmed by the idea of starting an Inbound marketing campaign? Don't worry, you're not alone! Inbound marketing can be a powerful way to build your online presence, but it can also be intimidating for those who are new to the concept.
Luckily, by understanding some of the basics of inbound marketing examples and best practices, you can easily get started.
Today, we'll cover the basics of inbound marketing, including how to use inbound marketing examples to create effective marketing campaigns. You'll also find helpful tips and advice to help you get started with your own inbound marketing strategy.
Define Inbound Marketing
The definition of Inbound Marketing is essential for anyone new to the concept. Inbound marketing is not just a strategy, it's an inbound methodology that focuses on attracting, engaging, and delighting customers. It is all about creating valuable content that pulls people towards your business and establishes you as a trusted source.
By implementing inbound marketing tactics, you can generate more leads and ultimately increase your sales. Whether you're a business owner or an inbound marketing strategist, understanding the fundamentals of inbound marketing will help you create successful campaigns that resonate with your target audience. So, let's dive into the world of inbound marketing and discover its power!
Identify Your Target Audience
Identifying your target audience is a crucial step in any inbound marketing strategy. By understanding who your ideal customers are, you can create content and campaigns that resonate with them. To identify your target audience, start by defining your buyer personas. 
These are fictional representations of your ideal customers that help you understand their demographics, interests, pain points, and motivations. Conduct market research, analyze your existing customer base, and gather data to refine your buyer personas. This will enable you to tailor your inbound marketing efforts and attract the right audience for your business.
Develop Quality Content
Developing quality content is a key component of a successful inbound marketing strategy. Inbound marketing is all about attracting and engaging your target audience, and the best way to do that is through valuable and relevant content. Whether it's blog posts, videos, social media updates, or ebooks, your content should provide value to your audience and address their pain points.
It's important to create content that is informative, entertaining, and shareable. By focusing on quality content, you can establish yourself as a trusted source in your industry and drive inbound leads. So, take your time to research, plan, and create content that will resonate with your target audience.
Optimize your Content for Search Engines (SEO)
Now that you have a good understanding of inbound marketing and how to identify your target audience, let's talk about optimizing your content for search engines. Search engine optimization or SEO, plays a crucial role in attracting organic traffic to your website. When done right, SEO can greatly increase your visibility and drive more inbound leads.
To optimize your content for search engines, start by conducting keyword research. Identify the keywords and phrases that are relevant to your business and target audience.
Use these keywords strategically in your website content, blog posts, and other digital assets. This will help search engines understand the context of your content and rank it higher in search results.
In addition to using keywords, make sure your website is technically optimized for SEO. This includes optimizing your page titles, meta descriptions, URLs, and headers. Use descriptive and compelling language to entice users to click on your website in search results.
Another important aspect of SEO is building high-quality backlinks. Backlinks are links from other websites that point back to your site. Search engines view backlinks as a sign of credibility and authority, so focus on building relationships with reputable websites in your industry.
Remember: SEO is an ongoing process. Stay up to date with the latest SEO trends and algorithms to ensure your content remains relevant and visible. With these SEO tips, you'll be able to drive more organic traffic and increase your inbound leads.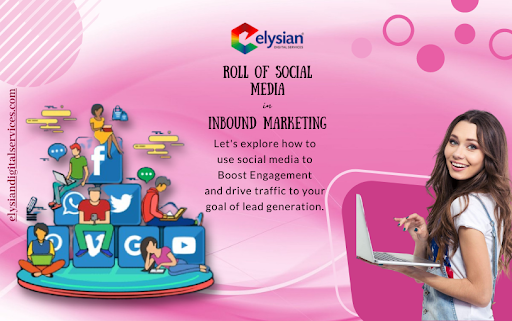 Leverage Social Media to Boost Engagement
Leveraging social media is a crucial aspect of any inbound marketing strategy. In today's digital world, social media platforms have become an integral part of our daily lives. They offer a unique opportunity to connect with your target audience, build brand awareness, and boost engagement. With billions of active users, platforms like Facebook, Instagram, Twitter, and LinkedIn provide a vast pool of potential customers waiting to be reached.
To leverage social media effectively, start by defining your goals and objectives. What do you want to achieve with your social media efforts? Is it to increase brand visibility, drive traffic to your website, or generate inbound leads? Tailor your content and strategies accordingly.
Next, identify the social media platforms that align with your target audience and industry. Different platforms cater to different demographics and interests, so it's important to choose wisely. For example, if you're targeting a younger audience, platforms like Instagram and TikTok might be more effective. If you're in the B2B space, LinkedIn might be a better fit.
Once you've identified the platforms, create a social media content calendar to plan and schedule your posts. Consistency is key when it comes to social media, so aim to post regularly and engage with your audience. Be sure to share a mix of promotional and educational content to keep your audience engaged.
In addition to posting content, don't forget to actively engage with your audience. Respond to comments, answer questions, and participate in relevant conversations. This will help build trust and establish you as a thought leader in your industry.
Lastly, don't be afraid to experiment with different types of content on social media. Test out videos, infographics, live streams, and user-generated content to see what resonates best with your audience. Use analytics and social media listening tools to track the performance of your content and make data-driven decisions.
By leveraging social media effectively, you can boost engagement, and drive inbound lead generation. This is a part of the inbound marketing strategy.
Create Calls-to-Action (CTAs)
Now that you've developed quality content and optimized your website for search engines, it's time to focus on creating calls-to-action (CTAs). CTAs are powerful tools that prompt your audience to take a specific action, whether it's downloading a resource or making a purchase.
When creating CTAs, it's important to make them clear, concise, and compelling. Use action verbs and create a sense of urgency to encourage your audience to act immediately. For example, instead of using a generic "Click Here" button, try something like "Get Your Free Ebook Now" or "Sign Up for Our Exclusive Webinar Today."
In fact, the design and placement of your CTAs also matter. Make sure they stand out visually on your website and are placed strategically within your content. Use contrasting colors, bold fonts, and eye-catching graphics or infographics to grab your audience's attention.
Remember: CTAs are an essential part of the inbound methodology. They help guide your audience through the buyer's journey and convert them into leads and customers. CTAs are a good opportunity for inbound lead generation.
Monitor and Analyze Your Metrics
Once you've implemented your inbound marketing strategy, it's crucial to monitor and analyze your metrics to gauge its effectiveness. This step is often overlooked by newcomers to inbound marketing, but it's essential for refining your campaigns and maximizing your results.
Start by defining key performance indicators (KPIs) which should align with your goals. These could include website traffic, lead conversion rates, social media engagement, or E-mail click-through rates. Tracking these metrics regularly is essential to identify areas of improvement and make data-driven decisions to optimize strategy.
Google Analytics is a valuable tool for monitoring your website traffic and engagement metrics. It provides insights into your visitors' behavior, such as the pages they visit, the time they spend on your site, and the sources that drove them there. This data can be used to identify which marketing channel is performing well and where there is a need for adjustments.
Social media platforms also offer their own analytics tools that can provide valuable insights. Track metrics like reach, impressions, engagement, and click-through rates to understand how your content is resonating with your audience. You can use this data to refine your social media optimization and create more useful campaigns.By monitoring and analyzing your metrics, you can improve your inbound marketing strategies. But keep in mind that inbound marketing is a continuous process. What works today may not work tomorrow. Stay alert, and flexible.
Experiment with different strategies, according to the insights gained from your metrics to refine and optimize your campaigns. With time and effort, you'll become a skilled inbound marketing strategist and see the positive impact it has on your business.