PPC (Pay-Per-Click) advertising is a type of internet marketing that enables companies to purchase the right to have their ads displayed in search engine results and on other websites. It is a successful strategy for companies to expand their internet audience and online visibility. In this blog post, we'll take a look at everything you need to know about PPC advertising and how it can help your business grow.
PPC
Pay-per-click, or PPC, is a form of advertising used in digital marketing. It is a type of advertising where businesses bid on keyword phrases and then pays each time their ad is clicked. 
PPC advertisements can appear on websites, applications, videos, search engines (such as Google, Yahoo, and Bing), and more. One of these websites displays a list of results after a user types a search query, with sponsored adverts at the top and bottom of the page. The company behind these adverts pays a charge to the platform hosting the ad whenever a user clicks on one of them.
In this way, PPC allows businesses to get their message out quickly and directly to the target audience. The people who are most likely to be interested in what you have to offer will see it immediately away, which is a terrific method to get in front of them.
The Benefits of PPC Advertising
PPC advertising is a powerful tool for businesses of all sizes, offering a range of benefits to help them reach their goals. From increased visibility and targeted leads to better ROI, the advantages of PPC are hard to ignore.
Here are some of the key benefits of investing in a PPC-targeted leads to a better ROI advertising campaign:
– Increased Visibility: PPC advertising gives you the ability to target potential customers with ads that appear on search engine results pages (SERPs) and across the web. This gives your brand more visibility and exposure to potential customers, which increases the likelihood of them engaging with your product or service
–  Leads that are specifically suited to your campaigns can be found through PPC by using filters like age, location, gender, interests, and more. This means that you'll be able to focus your efforts on users who are most likely to convert into leads.
– Cost-effective: PPC campaigns may be adjusted up or down as needed and need very little initial cost. This makes beginning a digital marketing campaign for companies on a tight budget simpler. Furthermore, it is an affordable method of advertising your business because you only pay when a user clicks on your ads
– Measurable Results: With PPC advertising, you can easily track the performance of your campaigns by monitoring metrics such as impressions, clicks, conversions, cost per click (CPC), and cost per acquisition (CPA). This makes it simple for you to change your campaigns based on what is and isn't working.
By taking advantage of the benefits of PPC advertising. Businesses can create effective campaigns that drive more sales and increase their ROI. Whether you're just getting started or have been running PPC campaigns for a while, understanding the basics of PPC and how to use it effectively is key to success.
The Different Types of PPC Ads
PPC, or pay-per-click advertising! is one of the most popular forms of digital marketing and can be used to promote your products and services online. But what types of PPC ads are available? Here's a quick overview of the different types of PPC ads that can be used to drive traffic to your site and boost sales.
Search Ads: The most typical PPC ad kind, search ads show up at the top and bottom of the search engine results page (SERP) when visitors enter certain words or phrases in the search bar. These ads are typically text-based and display a title, description, and URL that links directly to your website.
Display Ads: You can discover display advertisements, which are visual advertisements, on websites all over the internet. They may be utilized to advertise goods and services and provide backlinks to your website or landing pages.
Video Ads: Video ads are becoming increasingly popular as they allow businesses to showcase their products and services in a more engaging way than text or image-based ads. Video ads are typically hosted on video-sharing sites such as YouTube, and can range from short commercials to more detailed explainer videos.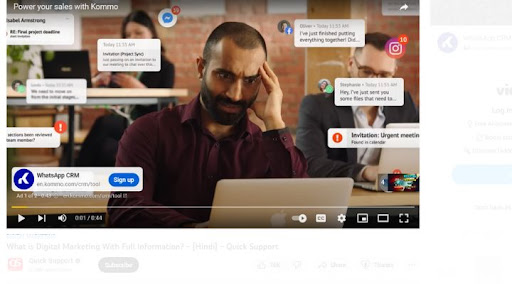 Social Media Ads: Ads on social media platforms like Facebook, Twitter, Instagram, LinkedIn, and Pinterest are targeted advertisements. These advertisements can target particular demographics based on user profiles, interests, regions, and other factors.
Remarketing Advertisements: Remarketing ads are employed to re-engage website visitors or other brand-related brand interactions. These ads can be displayed on websites across the internet or social media platforms to draw customers back to your site.
Creating a PPC Campaign
A successful PPC campaign requires careful planning and implementation. A PPC campaign is created through several phases, including keyword research, ad copywriting, bid management, and budgeting.
Keyword Research: Finding the keywords that are most pertinent to your company is the first step in developing a successful PPC campaign. Utilizing keyword research tools is one way to achieve this, such as the Google AdWords Keyword Tool or other services of a similar nature. You should aim to identify the most relevant keywords for your business and those that have the highest search volume. 
Ad Copywriting: The next stage is to write successful ad text that communicates to your target audience directly after you've determined the most pertinent keywords. Your ad copy should include a compelling headline, a clear call to action, and an explanation of why your offer is worth clicking on. 
Bid Management: After you've created your ad copy, you'll need to determine how much you're willing to pay for each click (known as your "bid"). This is known as "bid management" and it's important to ensure that you're bidding enough to generate traffic while not spending more than you can afford. 
Budgeting: The final stage in developing a good PPC campaign is budgeting. You should set a realistic budget that allows you to generate enough clicks and conversions while still staying within your overall marketing budget. You should also consider setting daily limits on your spending to ensure that your budget isn't exceeded. 
Any digital marketing strategy must include successful PPC campaign creation. Following these steps will help ensure that your campaign is successful and you get the most bang for your buck.
Managing a PPC Campaign
Once your PPC campaign has been set up, it's important to stay on top of it. A successful PPC campaign requires regular attention and maintenance. You may manage your PPC campaign by using the following advice: 
Monitor Performance – Regularly check on the performance of your PPC campaigns to make sure it is going as planned. Track your keywords and make sure you're getting the desired results.
Use A/B Testing – Test different variations of ads and landing pages to optimize performance and increase conversions. To maximize results, this will assist you in determining the ideal pairing of advertising and landing sites.
Set Up Conversion Tracking – Make sure you're tracking conversions, such as form submissions or purchases, to gauge the effectiveness of your campaigns. This will give you crucial knowledge about which projects are successful and which ones need improvement.
Keep Up With Changes – Because the digital environment is continuously evolving, it's critical to keep up with any adjustments made to PPC advertising platforms. Ensure you're informed of any upgrades or brand-new features that could enhance your marketing.
Use Automation – Many PPC platforms offer automated tools that can help manage your campaigns more effectively. These tools can help optimize bids, adjust budgets, and identify high-performing ads.
Although it takes time and works to run a good PPC campaign, the benefits are well worth it. With proper management and optimization, you can maximize your returns and ensure that your campaigns are delivering the best possible results.
How to Assess a PPC Campaign's Success 
It's crucial to monitor the effectiveness of your PPC campaign once you've developed and launched it. The greatest approach to gauge a PPC campaign's success is to monitor your return on investment (ROI). ROI is a metric that assesses how much money your campaign makes relative to the money you invested.
You should consider some measures to determine how well your PPC campaign is performing. This also includes views, clicks, and sales. Impressions are the number of times an ad is displayed. Clicks are the number of times people click on an ad. And conversions are the number of sales or leads generated from your ads. 
Additionally, measures like cost per click (CPC) and cost per acquisition might be used (CPA). CPC is the average amount you pay for each click on an ad. While CPA is the amount you pay each time someone converts (i.e., makes a purchase or signs up for a service). You may get a fair notion of how successful your campaign is by monitoring these indicators over time.
It's critical to monitor your competition in addition to performance measures. Consider what other advertisers are doing and make adjustments to your campaigns using that knowledge. Making sure your money is being spent wisely and that you aren't overspending is also crucial.
By tracking the performance of your PPC campaigns, you can make sure that you're getting the best return on investment possible. You may then increase the efficiency of your marketing by doing this.
Bottom Line 
PPC marketing is a critical component of digital marketing and maybe a potent tool for increasing leads, conversions, and sales. By targeting specific audiences and using various types of PPC campaigns, you can customize your message and increase your ROI. However, it is possible to manage and measure your PPC campaigns for optimal impact with the correct techniques in place. Keep in mind that PPC campaigns require regular monitoring and optimization. So be sure to create goals, track your results, and adjust accordingly. With the right approach, PPC advertising can be a powerful tool to reach your target audience and achieve your desired outcomes.